https://www.dnr.wa.gov/news/northport-school-district's-new-wood-pellet-boiler-part-pilot-project-supporting-bioenergy
A carbon-neutral wood pellet boiler will soon provide heat for students and staff at a school in Northport, thanks to a bioenergy pilot project supported by the Washington State Department of Natural Resources (DNR), the Washington State Department of Commerce, and the Washington State University Energy Program.
 The project on Northport's preschool-through-12th-grade campus is the first time the state has funded the installation of a wood pellet boiler in a public building and is part of a larger effort to promote the wood-energy industry in Washington.
 Supporting the bioenergy industry is a component of DNR's 20-Year Forest Health Strategic Plan, which aims to restore 1.25 million acres of unhealthy forests in Washington. In addition to taking actions to increase forest health and decrease the risk of catastrophic wildfires, the plan calls for using forest restoration and management strategies as an economic catalyst in rural communities, such as turning wood byproducts into pellets.
 "Demand exists for bioenergy, and we want that industry and its jobs right here in Washington, including in our rural timber communities," said Commissioner of Public Lands Hilary Franz, the head of DNR. "From timber byproducts that would otherwise get burned or thrown away, we can create cleaner and more efficient fuels to heat our homes, businesses and public places."
 After looking at a number of schools in the state, the WSU Energy Program analyzed and recommended the Northport site, and the Department of Commerce's Energy Division allocated state and federal funding for the project. Commerce, WSU Energy Program, and DNR are all on the Washington State Wood Energy Team, which works to develop biomass energy projects that complement the state's forest restoration goals.
 "Bringing clean-burning wood energy to Northport provides a model for how timber-dependent rural communities in Washington can reduce infrastructure costs, improve resiliency and create value for work in the woods," Department of Commerce Director Brian Bonlender said. "We hope to see other public facilities in the state embrace viable energy alternatives that can help strengthen rural communities."
 For the school district, the project came at the perfect time – one of its diesel boilers was failing, requiring constant repairs.
 "As a small school district in a rural community, it can be challenging to budget for large maintenance upgrades, so participating in this project felt like a great opportunity for us," Northport School District Superintendent Don Baribault said. "The new boiler is more environmentally sound and will provide long-term fuel cost savings, and the price of wood pellets is much more stable than the price of oil."
 Northport is in Stevens County in Northeast Washington. Baribault said the pellets will initially come from an Idaho supplier, but he hopes that as the bioenergy industry takes off in Washington, there will soon be a supplier even closer to home.
 The new biomass boiler was installed in a modified shipping container off-site to reduce construction costs, and crews are completing the final installation this week at the school. Wisewood Energy, a Portland-based biomass energy developer, led the project's construction and final design.
 "Wisewood Energy is excited to be a part of this project," company President Andrew Haden said. "The Northport school biomass system is a great example of state-of-the-art technology that's very clean and efficient, and makes use of resources that can be produced in the local or regional area. We see a lot of opportunities for more projects like it."
Today is National Bioenergy Day
 The boiler project is also part of this year's National Bioenergy Day, sponsored by the U.S. Forest Service and the Biomass Power Association. Across the country today, communities are highlighting the ecological, social, and economic benefits of a locally sourced renewable wood-energy industry.
 "Renewable wood energy empowers Western communities to sustainably manage their forests and control their local energy needs," said Julie Tucker, national lead for wood energy for the U.S. Forest Service. "Wood pellets can transform rural America by converting forestry leftovers into a valuable wood energy product that reduces energy costs, creates local jobs that cannot be outsourced, and supports sustainable management of one of our country's most valuable natural resources – forests."
 For more information about the Northport boiler project, visit DNR's Ear to the Ground blog.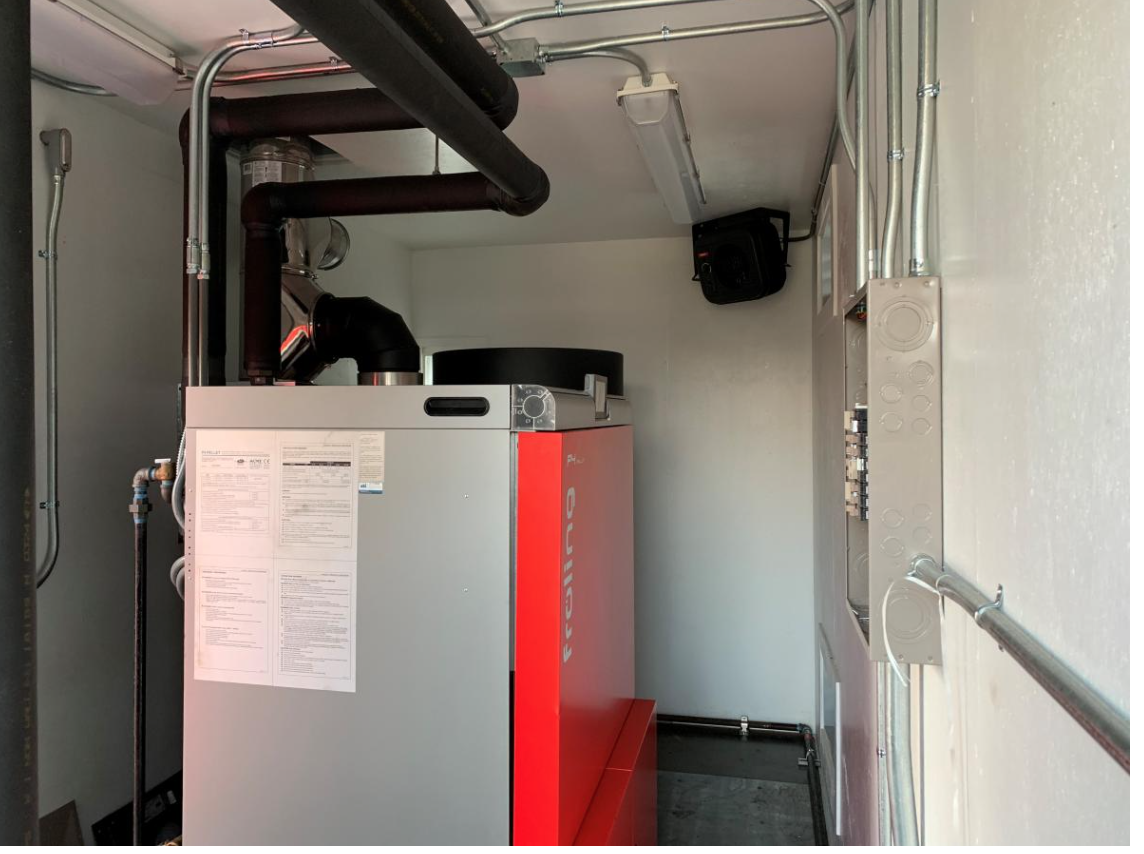 Above, the 340 MBH biomass boiler is expected to use about 70 tons of wood pellets a year, saving the school from burning about 8,500 gallons of fuel oil each year. (Wisewood Energy photo)