A new bio-energy project being installed at UNBC is the first of its kind in North America.
Assistant Director of The University's Facilities – David Claus says the third phase of their project will connect the campus' day care and residences heating system, aiming to increase warmth and decrease greenhouse gas emissions.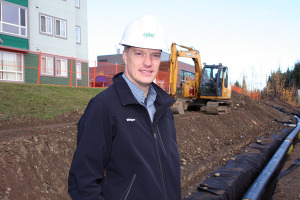 "What that will allow us to do is, the hot water heat, that we use to heat the buildings, we can use that same heat, to heat the residences and day care ," he says.
Claus says it uses both waste wood from saw mills and a pellet boiler and this is the first time a twin-pipe system has been used for a project like this in North America.
"Now we're bringing the piping to the buildings, so we can get the hot water there," he says. "Next summer, we'll be doing some renovation work in the buildings and that will include changing over the furnaces, from natural gas to use hot water."
"In the process of doing that, we're going to make the furnaces a little bit larger," Claus continues. "The net results will be a little more heat available."
"A big part of what we're trying to do is get ourselves off of fossil fuels," he explains. "That's why we want to get rid of the natural gas heat and use the wood. In that regard, for climate change, we're emitting 'non-dinosaur-based' carbon into the atmosphere."
The project costs $2.2 million and was shown off Wednesday as part of Bio-Energy Day.
– See more at: http://hqprincegeorge.com/unbc-unveils-new-bio-energy-heating-project/#sthash.3UP2pt3G.dpuf