Minnesota Power is promoting a sustainable form of energy that can be found right in people's backyards.
Tuesday was National Bioenergy Day. That's a type of energy that uses organic material to make heat, electricity and other products like biofuels.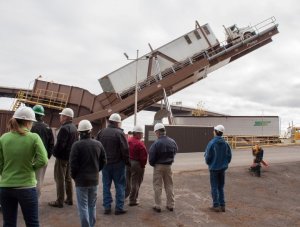 Bill Sawyer, plant manager for Minnesota Power's Hibbard Renewable Energy Center, said bioenergy is renewable, sustainable and carbon-friendly. He also said it's good for the local economy, since there's plenty of fuel in the Northland.
"Especially in our region, in northern Minnesota, we have an abundance of forest resources," he said. "Woody biomass that's used for energy both in residential and commercial applications. You've got your wood pellets, your wood stoves, your heating."
Minnesota Power also has three facilities where they produce bioenergy for industrial customers. Sawyer said they want to expand its use in the region.
Please visit WDIO.com to view the video news coverage of Minnestota Power's National Bioenergy Day event.