We are pleased to announce that the Fourth Annual Bioenergy Day will take place October 19, 2016!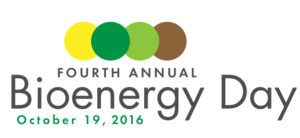 As in years past, Bioenergy Day 2016 aims to enable all organizations with a stake in bioenergy – business, academia, government and non-profit – communicate its many benefits.
Next month, on May 17, at 2pm ET/11am PT we will begin to hold monthly planning calls for the Fourth Annual Bioenergy Day. These calls, held the third Tuesday of each month, are designed to focus on the many elements needed to hold a successful Bioenergy Day event. To join the call, dial 207-805-8183.
Last year, the U.S. House of Representatives Biomass Caucus held its kickoff event on bioenergy day, with a panel discussion on Capitol Hill about the issues facing bioenergy. Ontario Energy Minister Bob Chiarelli recognized the benefits of biomass. Sixty organizations across the country, including the State of Kentucky and Louisiana State University, held major events to spotlight their involvement in bioenergy.
This year, we have a few changes in store. We're forming the Bioenergy Day Steering Committee to help advise us in growing this important annual event. We'll be announcing the members of this committee soon.
We're also seeking input on the focus of our 2016 Bioenergy Day video. In 2014, we explored the partnership between the U.S. Forest Service and Eagle Valley Clean Energy in using for biomass the dead and damaged trees around Vail, Colorado, that have been infected by the pine beetle blight. Last year, we documented the role of biomass power and pellets in the forest products industry of Northern Maine. Together, these videos have received nearly 3,000 views.
This year, we're hoping to engage with sponsors to help us update this website and hire a part-time organizational assistant. If you are interested in playing a leadership role in the growth of Bioenergy Day, or seeing your organization's logo on the Bioenergy Day materials that will be seen by thousands of biomass supporters, please contact me, Carrie Annand, at carrie@usabiomass.org.
We look forward to working with all of you, and here's to a successful Bioenergy Day 2016!