Murray State University hosts representatives from Frankfort and statewide agencies in the energy sector today for an observance of National Bioenergy Day (#bioenergyday) at the Equine Center. Sessions include conversations on energy strategies involving advanced biofuels, woody biomass and the first modern legal harvest of industrial hemp in Kentucky (today at Murray State).
The observance also includes the official lighting of Murray State's bio-burners and the announcement of a state wood energy grant. On Sounds Good, Kate Lochte gets the details from Tim Hughes, Director of the Division of Biofuels of the Kentucky Department of Energy Development and Independence.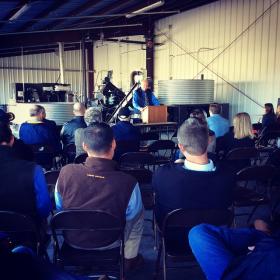 Representatives include members of Governor Beshear's Office of Agriculture Policy, USDA's Division of Compliance Assistance, LEI Products, Whane Supply, Genera, AGCO Equipment and the Kentucky Energy and Environmental Cabinet.
The Commonwealth's direction on bioenergy falls within the Department of Energy Development and Independence, directed by Tim Hughes. In 2008, Governor Beshear laid out an energy strategy analyzing the utilization of fossil fuels, biofuels, nuclear and other types of energy. in 2009, he appointed a biofuels and biomass task force, which conducted an analysis that concluded by 2025, Kentucky could produce up to 25 million tons of biomass in a sustainable manner used for biofuels and bioenergy. Several things have happened since then, Hughes says: extremely cheap natural gas, discussion and debate about the future of coal and the financial crisis of 2008.
Nevertheless, progress is being made towards achieving energy goals. 9.8% of all gasoline and between 2.5% to 3% of all diesel fuel is ethanol. Biofuels typically come from sugars and vegetable oils found in crops like soybeans. The next hurdle, Hughes says, is the next generation of biofuels and the activation of new industrial plants that can process the material. Second-generation biofuels, also called advanced biofuels, come from woody biomass and animal waste (also known as bio-gas, which can be converted into methane).
Murray State turns on their new bioburners, funded through the Kentucky Energy and Environmental Cabinet and TVA. It uses the animal waste produced by the equine program to generate heat for the arena.
Attention now turns to woody biomass and the potential for farmers to utilize the fuel to provide heat for poultry centers. Woody biomass typically comes from diseased wood, less than desirable species or material left over from a timber harvest – used at a low cost – to replace fossil energy. Hughes says Kentucky has the infrastructure in place for moving wood products and hopes that through education, loggers can identify and clean woody biomass and take advantage of the opportunities for providing the alternative energy product. The Kentucky Energy and Environmental Cabinet has identified a list of four key goals, which Hughes believe are achievable over the next couple of years:
L – Logistics, how do we get the material from the forest to the end user in the most efficient way?
O – Opportunities, paper mills and wood stoves in place, recast projects, etc, how can we help them better utilize woody biomass?
G – Growth, what are the new areas? advanced biofuels, new power plant utilizing woody biomass
S – Sustainability, addressing the concern of over-harvesting woodlands, making sure that there is more growth of forests than consumption, making sure everything is handled in an sustainable manner
Ky Energy & Environment Cabinet Division of Biofuels website
Listen to the full interview at WKMS.