Posted: Thursday, October 23, 2014 7:00 am
It was observed several times Wednesday that the second annual National Bioenergy Day at Murray State University had attracted quite a large and diverse group.
Perhaps it was because they came to witness history, which they did before the event officially began around midday. In the morning, as had happened a few months earlier, several busloads of observers from all walks of the bioenergy spectrum arrived at an undisclosed field somewhere in Calloway County.
And there they saw what has been documented as the first industrial hemp crop legally planted in the United States since around World War II, harvested and then baled.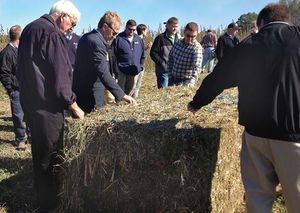 "I saw an issue of Popular Mechanics from 1937 that was declaring hemp as 'America's new billion-dollar crop,'" said Dr. Tony Brannon, dean of the MSU Hutson School of Agriculture that participated in a pilot program made possible by both the office of Kentucky Agriculture Commissioner James Comer and Congress' passage of the latest farm bill. Industrial hemp was declared illegal shortly after that story appeared, as it began being linked to narcotics use, as more recent findings indicate, perhaps unfairly.
This crop is now being touted for its use in automotive manufacturing, clothing, food and a multitude of other uses, including horse bedding. Brannon said the crop is 400 percent absorbant as a bedding product, easily topping other materials.
"This is a big day for bioenergy and for biomass here at Murray State," he said. "We have had a lot of cooperation on this endeavor. Murray State was the site of the first legal hemp planting since World War II and this truly marks a milestone."
"I've been growing hemp since 1990. Romania, China, Canada, I've been everywhere, and I've been waiting 25 years to have the chance to grow hemp here in America and here we are," said Chris Boucher, vice president of the U.S. Hemp Oil firm of Las Vegas, Nevada, which specializes in using hemp oil for many everyday products, such as toiletries. He had attended the public announcement that MSU had planted its seeds, supplied by Louisville-based Caudill Seed, in June.
"Let me tell you something else. Gentlemen like Brannon you don't find often. You've got precedents here that are opening doors in the world of agriculture, especially to young people. That's what Dean Brannon is doing."
With that, Boucher, on behalf of U.S. Hemp Oil's subsidiary, CannaVest, announced a donation of $10,200 in coordination with the state agriculture department, to the Hutson School for scholarships.
However, there was history in other areas on this day as the highly-anticipated ignition of a Bioburner unit commenced. This project, was made possible from a $309,000 grant through the Kentucky Department for Energy Development and Independence. Numerous other players also helped provide additional funding for the project.
The Bioburner itself, which utilizes biomass – materials from both animals or plants – was manufactured by LEI Products of Madisonville. It will be used to provide heat for the MSU Equine Center.
"This could now be a world-known facility because of what it's doing," said Scott Lasowski, president and CEO of LEI. "I've been to test labs, but the thing that's so difficult is that it's challenging to find one spot for everything involved. Here, they are able to process everything, pretty much, on one site."
Dr. Leonard Peters, secretary of the Kentucky Energy and Environment Cabinet, was also present and said the projects MSU was displaying Wednesday follow the blueprint of an energy plan Gov. Steve Beshear designed in 2008. From that was formed a task force, on which Peters served, to focus on one of the parts of that plan, strengthening Kentucky as a biomass producer.
"From that, we found that solar is not going to be a large-scale thing here. We also found that the nearest real wind energy field was too far north. Biomass, though, is an important renewable energy source for Kentucky because its material is so plentiful," Peters said. "It recycles itself over a few years or in just one growing season.
"Do you know that in the U.S., 26 percent of the energy is used for industrial purposes? It's 50 percent in Kentucky, though. That is because manufacturing is so strong in Kentucky (where more than 220,000 people have such jobs). We have to figure out every efficient way we can use energy and we're just beginning to step into that. I'm really interested to see how this Bioburner performs here."
Loretta Daniel, director of the Kentucky Innovation Network at MSU, said her side of the economic playing field is perfectly suited for being involved in the bioenergy conversation.
"Entrepreneurs particularly are critical to bioenergy and we're really excited about being part of this," Daniel said, remembering how MSU was part of a study that involved five other states several years ago on biomass.
What resulted from that was West Kentucky Ag Bioworks, a cooperative venture featuring no less than five MSU colleges/schools or offices, along with other regional interests.
View the article at the Murray Ledger & Times.